Geeki Tiki® Mugs in Marvel, Star Trek, Star Wars and Monsters!
Date Posted:11 March 2018
If you love Tiki, these new themed Tiki Mugs will make you smile! We have managed to finally get our hands on the Geeki Tiki® range of quality Tiki Mugs. Created and produced under license, they feature a very collectible line-up of pop culture's most beloved characters with the unique stylisation seen in traditional tiki culture.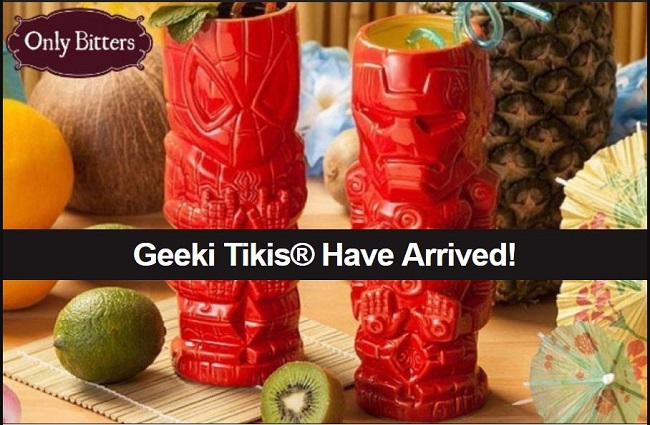 MARVEL Tiki Mugs
Fans can enjoy product from Guardians of the Galaxy, Spider-Man, Ironman, Deadpool & Wolverine. Be sure to collect Earth's Mightiest Mugs this Summer!
$29.95/ea
STAR TREK Tiki Mugs
Geeki Tikis® have boldly gone Star Trek with a line of Star Trek™ Collectible Tiki Mugs that depict Kirk, Spock, Dr. McCoy, the Mugato, a Klingon and the Gorn.
$29.95/ea
STAR WARS Tiki Mugs
Star Wars™ Geeki Tikis® were designed in close collaboration with Lucasfilm Ltd., and faithfully represent some of the most beloved, iconic and memorable characters from this galaxy and beyond. Collect the entire line of Star Wars™ Geeki Tikis® and "May the Force Be With You." 12 exciting Star Wars character mugs at $43.95/ea. Also Jabba and Salacious Crumb were a one run only set! $76.95 p/set
MONSTER Tiki Mugs
These creative, colourful Tiki Mugs combine some of our most-beloved monster characters with the unique stylization found in Tiki design. Collect all your favourites: Dracula, Frankenstein, Bride of Frankenstein, Gill Man, Wolfie, and Tut.
$29.95/ea
---
Leave a comment